My husband Ray and I met in October of 1999.  Neither one of us thought our relationship would turn into what it is today.  We had our struggles.  He was much older than I, had been married and divorced 3 times, and already had 5 children (whom I love).  He didn't hide the fact that after his youngest son he had a vasectomy.
It was about 7 years into our relationship that I walked away.  I craved a family of my own & it hurt him to know he couldn't give me what I wanted the most.  Mothers' Day was always such a sad day for me.
Our separation didn't last too long.  We were drawn to each other and I remember thinking to myself that maybe it wasn't meant to be.  Maybe I wasn't meant to be a Mommy.  As a result of our separation, our bond grew stronger.  After 10 years together, we married in 2009.
In 2012, I took the biggest step of my life.  I scheduled a consultation with a fertility clinic.   Due to our circumstances, we discussed and began treatments for In Vitro Fertilization (IVF).  There were a few complications along the way but after two embryos were transferred, we got the call that we were pregnant.  It was the best day of my life!
The next September, we were blessed with a healthy baby boy; Makaio.  He is my heart, my love, my entertainment, my world, my EVERYTHING.  My husband Ray and I are absolutely in love with him and are truly grateful that after all these years we've been blessed with this beautiful soul.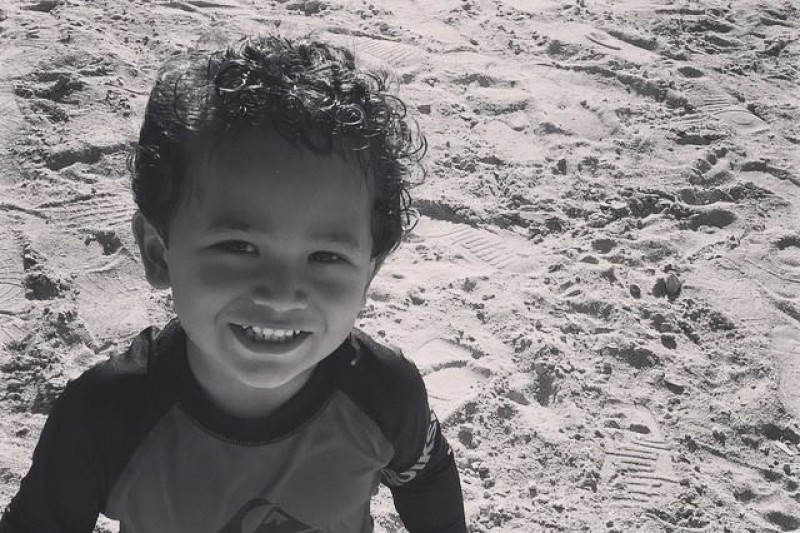 I still had 7 frozen embryos.  I wanted more than anything to give Makaio a little brother or sister.  So, in January of 2015, I met with my fertility doctors again and shortly after, began necessary treatments to add another bundle of joy to our family.  In April, they transferred two frozen embryos.
April 16, 2015 – The second best day of my life.
I got the call I've been praying for.  We're pregnant!  I felt our family would now be complete…simply overjoyed!
May 5, 2015 – Bleeding.  Scared.  Whaling.  "Please, God, don't take this away from me!". 
I headed to the emergency room thinking the worse had happened.  Outcome?  TWINS!  From panic to euphoria, it was a very emotional day.
May 8, 2015 – First ultrasound with my fertility doctor.
"How many embryos did we transfer?" she asked.  I responded with "two".  As I respond, I'm looking at the monitor and it looks as if there are three little kidney beans.  My mom and niece are with me, and we all see it.  After completing the exam, the doctor confirms there are 3.  Triplets.  Truly blessed.
May 15, 2015 – Second ultrasound with my other fertility doctor. 
I was alone this time.  Just as the exam was about to end, he started to count "A, B, C…"  My eyes and ears were opened wide. He says "I think you have quads".  This time, I'm speechless.  Within a matter of 2 weeks, I went from thinking that I miscarried, to having twins, then triplets, now quadruplets??
I called my husband to give him the news.  Along with everyone else we told, he thought I was joking.  No joke.  We need four of EVERYTHING, plus a bigger car, and a bigger place to call home…and what about daycare?
June 15, 2015 – My first visit with a Fetal Diagnostic Specialist. 
They took a peak at the babies and shared we were having 3 boys and one girl.  The 3 boys are identical, stemming from one embryo, and our daughter stemming from the other.
There's risks associated with higher multiple births, so of course, the doctors spoke to me about considering selective reduction.  Basically, it's aborting one or more of the fetuses to allow a better outcome for the others.  I couldn't do it.  For so long I've wanted children and the thought of making the conscious decision to reduce was not an option.  I had full support from my husband and all my family and friends.
July 1, 2015 – My second visit with my Fetal Diagnostic Specialist. 
Guess what?  They found another baby!  "There's Baby A, there's Baby B, there's Baby C, there's Baby D, and here's Baby E".  Another boy.  My initial reaction?  Excitement!  Another baby to love.  I remember thinking "I hope he's not wrong".
It took a few moments after leaving the doctors' office for me to realize what he really said.  Reality sunk in and my mind really began to race.  5 babies!?  What?  It was a pretty silent car ride.  I think we all (husband, mom & niece) needed to process what had just happened.  I mean, how many more are in there?  Is this really happening?  I'm so blessed, but why me?  What are we going to do?
We've gotten surprise after surprise over the past three months.  Of course, one of my main concerns has been finances.  This was so unexpected.  No one would've ever guessed we'd be blessed with 5 babies at once.  Yes, we had fertility treatments but the doctors followed protocol and only transferred 2 embryos.  Science helped me conceive.  But God?  God blessed us with these babies.  One embryo split into two, then each of those split again, resulting in my four boys – that's a natural occurrence.  The other embryo remained as one – my baby girl is the biggest one of all.  I truly believe we've been chosen to parent these little miracles and I intend to do the best I can.
With all the excitement, I'm forced to face reality.  The reality is, is that I'm pregnant with 5 beautiful souls, but there's a possibility I may not bring all of them home.  Two of the babies have Twin to Twin Transfusion Syndrome (TTTS).  This occurs when the blood vessels of the babies' placenta are connected.  This means one baby (the recipient) receives more blood flow, while the other baby (the donor) receives too little.
I've been going to the doctor on a weekly basis to get ultrasounds done to monitor these two little guys.  A few weeks ago, the doctor drained some of the fluid from Baby C (the recipient).  This was done via Amniocenteses; 650cc's of fluid was drained.  So far, we haven't had to drain any additional fluid.
There are tough decisions in my immediate future.  Doctors may recommend that I have these babies as early as 25 weeks.  This brings risks to all 5 of them with only a 50/50 chance of survival.  I'm almost 21 weeks now and I feel the walls closing in on me.  What will I do?
I don't know what lies ahead of me, but I need to remember to have faith and continue to pray that my babies will be okay.  I didn't ask for quintuplets, but I wouldn't change it for the world!  I know it'll be a struggle, but if anyone can do it, we can!  Why else would God choose us?
To be continued…